Basement Waterproofing, Crawl Space Repair, and Foundation Repair Contractors
Serving Brandon, Regina, Yorkton, Estevan, Weyburn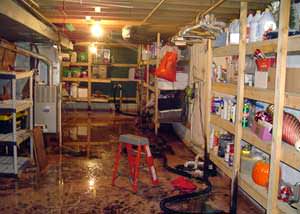 Why Fix Your Basement?
If it's worth owning a home that has a wet basement, then it's certainly worth fixing it!
A basement represents an entire floor of your home -- one that can be used as storage, or can be fixed to add an extra floor of living space. Eliminating moisture will help you control mold, will eliminate musty odors, and will help you to preserve your home.
Whoever buys your home will expect the basement to be dry and clean. If it's not, the house will either need to be discounted by 10-20%, or it may not sell at all!
As with any other major home improvement, it's important to know that your crawl space and/or basement contractors are experienced and reputable.
As a certified Basement Systems Dealer, we're active members of a network of more than 300 like-minded professionals operating throughout North America and Europe.
We've been working together since 1987 to bring the industry's best practices and most innovative products to homeowners throughout our service area. Collectively, our products and services have been used to successfully waterproof hundreds of thousands of basements all over the world.
Being a Basement Systems Dealer means that we've completed a rigorous training series at their International Headquarters and have successfully completed certification tests in the areas of installation, system service, waterproofing system design, and customer service.
A Written, Transferable Warranty
Your system installation includes a written warranty -- one that's measured in decades, not years!
Should you decide to sell your home in the future, you'll be glad to know that your system's warranty is fully transferable to the next owner of the house. This provides an excellent edge for you when deciding on a closing cost!
Waterproofing, vapor barriers, walls, flooring, insulation, windows, dehumidifiers... When it comes to basements and crawl spaces, we can do just about anything!
With so many options for your home, our experts find that homeowners are best served by a personal, on-site consultation from one of our experts on staff. That's why we offer homeowners a customized system quote -- at no cost or obligation.
Your Free Estimate
Your free quote includes an on-site inspection and measurement of your space. Your expert will locate the sources of any problems, answering any questions you might have as we go. We'll explain the different options we provide for homeowners and make recommendations.
Once everything has been explained, our expert will work with you to customize a cost quote, using our innovative software program to map out your basement and your installation. A complete cost quote will be provided in writing for you based on the system you and your representative create together during our presentation.
As an added courtesy, we like to mail along a copy of one of our full color basement and crawl space books, which detail everything you need to know about your below-grade space, as well as information about our products and services.
We offer our services to homeowners throughout Southeast Saskatchewan and Southwestern Manitoba, including Regina, Brandon, Yorkton, the surrounding areas of Estevan, Weyburn, Dauphin, Melville, Virden, White City, Moosomin, Fort Qu'Appelle, Esterhazy, Souris, Pilot Butte, Roblin, Russell, Indian Head and nearby. Contact us by phone or e-mail today to schedule an appointment!